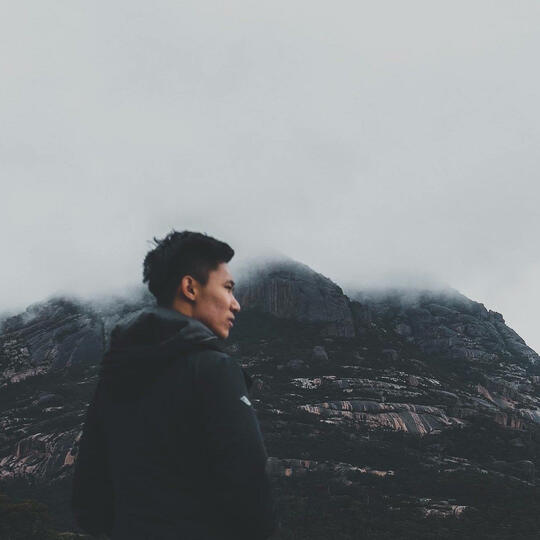 bernard tay
Philosophy BA
(Hons with Highest Distinction)
---
I teach General Paper for the Ministry of Education, Singapore.I was a teaching assistant for the philosophy department at the National University of Singapore. Student testimonials can be accessed here.My primary interests are in the philosophy of education and the philosophy of mind. I'm also interested in Camus, artificial intelligence, and the philosophy of the social sciences.Email: tay_guan_wei_bernard@moe.edu.sg


Teaching Evaluations
GET1029 LIFE, THE UNIVERSE, AND EVERYTHING
national university of singapore, fall 2020
UTS2100 INTELLIGENCE AND SINGAPORE SOCIETY
national university of singapore, fall 2017
8807 GENERAL PAPER
AY2023


Teaching Philosophy


Courses Taught


National University of Singapore
UTS2100 Intelligence and Singapore Society
FALL 2017 • Tembusu College, NUS
This course invites students to probe the concept of 'intelligence' in relation to Singapore's ongoing development as a nation. The idea that smart minds are essential for survival has shaped domestic policies and international positioning strategies. We ask: in what ways has human intelligence been defined, measured and harnessed? What counts as intelligence, and what does not? Beyond notions of intelligence centred on the human individual, we will also consider forms of collective and artificial intelligence, mediated by science and technology. What kinds of intelligence are needed for the future and how can Singapore develop them?GET1029 Life, the Universe, and Everything
FALL 2020 • Department of Philosophy, NUS
This module offers an opportunity to grapple with some of the most enduring challenges to human thought. Our starting point is a conception of ourselves as free and conscious beings equipped with bodies that allow us to observe and explore a familiar external world. Successive lectures investigate alternative conceptions of the human condition, such as ones in which we are unfree, or non-spirituous, or inhabit a world whose fundamental nature is hidden from our view. Different conceptions bear differently on the further question of what we should value and why. Discussion is both argument-driven and historically informed.


Ministry of Education, Singapore
8807 General Paper
AY2021-AY2023
General Paper aims to develop in students the ability to think critically, to construct cogent arguments and to communicate their ideas using clear, accurate and effective language. General Paper encourages students to explore a range of key issues of global and local significance and provides students with a good foundation to thrive in a fast-changing world. At the end of the course, students should have a broader understanding of the world, and be ready to meet the challenges of higher education and the workplace of the future.8881 General Paper
AY2024-Present
The General Paper syllabus is designed to equip students with critical and inventive thinking skills and the use of the English language for effective communication. The syllabus requires students to actively explore a range of key issues of local, regional and global significance. These issues cut across disciplines and are explored from diverse perspectives. Students develop fair consideration of, and respect for different perspectives, appreciate the interrelationship of ideas, and become more adept at interpreting and evaluating the complexities of the world we live in. At the same time, they develop the disposition of active inquiry, the habit of reflection, and the willingness to convey their views in a balanced and thoughtful manner. Students are also encouraged to contribute constructively towards their communities. Underpinning all these are sound values which will help guide students in making responsible decisions in life and for life.
Curriculum Vitae


EDUCATION
National University of Singapore (2016-2020)
BA (Hons with Highest Distinction) in Philosophy • CAP: 4.9
Honours Thesis: Meaninglessness and Dry Earth
• NUS Kent Ridge Undergraduate (Merit) Scholarship
• Tembusu College Grant
• Alice and Peter Tan Bursary
• Dean's List (FASS) - Jan 2018, Jun 2018, Jun 2020
• Special Book Prize (Philosophy) 2020CERTIFICATION:
Bachelor of Arts with Honours (Highest Distinction) in Philosophy
Official TranscriptAustralian National University (2018)
Semester Exchange Programme • Non-Award StudyCERTIFICATION:
Official TranscriptNational Institute of Education, Singapore (2022-2023)
Postgraduate Diploma in Education (PGDE) (Distinction) • CAP: 4.64
CS1: General Paper | CS2: English LanguageCERTIFICATION:
Official Transcript


TEACHING
National University of Singapore (Fall 2017)
UTS2100 Intelligence and Singapore Society
• Intelligence, Camus, intelligence testing, artificial intelligence, Bostrom, SuperintelligenceNational University of Singapore (Fall 2020)
GET1029 Life, the Universe, and Everything
• Applied ethics, freedom and moral responsibility, political philosophy, epistemology, philosophy of religion, and philosophy of mind.Ministry of Education, Singapore
1128 English Language (2021)
8807 General Paper (2021-2023)
8881 General Paper (2024-Present)


SERVICE
Instructional Programme
• O Level English Subject Tutor
• General Paper Subject TutorCo-Curricular Activities
• Modern Dance Co-Teacher IC (2021)
• ELDS Co-Teacher IC (2023)
- Found Poetry WorkshopCommittee
• Partnership Committee (2021)
• Publications Committee (2023)
- Editor and School Newsletter DesignService
• Testimonial Vetting (2023)
• Liaison Teacher for MOE's Creative Arts Programme (CAP) (2023)
• Moderator for SG Perspectives Educators' Dialogue (2023)
• General Paper Content Package


COURSES AND PROFESSIONAL DEVELOPMENT
Exploring the Heart of CCE (Pre-University) Workshop
MOE CCE Branch • June 2023General Paper Critical Writing Workshop
CPDD, ELIS • July 2023Learning How to Increase Learner Engagement
LinkedIn Learning • August 2023 • CertificateFoundations of Accessible E-Learning
LinkedIn Learning • September 2023 • CertificateGenerative AI: Possibilities and Potential for Student Assessments
Sing-ED Academy (with Mr Tan Yap Kwang) • September 2023Teaching with Technology
LinkedIn Learning • September 2023 • CertificateDesigning a Presentation
LinkedIn Learning • September 2023 • CertificateDesigning Learning Experiences in the Metaverse
LinkedIn Learning • October 2023 • CertificateMeasuring Learning Effectiveness
LinkedIn Learning • October 2023 • CertificateHow to Design Learning in the Digital Age?
Sing-ED Academy (with Dr Victor Lim Fei) • October 2023Academic Research Foundations: Quantitative
LinkedIn Learning • October 2023 • CertificateIntroduction to Prompt Engineering for Generative AI
LinkedIn Learning • November 2023 • CertificateTeaching Techniques: Blended Learning
LinkedIn Learning • November 2023 • CertificateDifferentiated Instruction and Positive Classroom Culture in Heterogenous Classrooms
STP Webinar: Academy of Singapore Teachers (AST) • November 2023


AWARDS
• Most Innovative Teacher Award (2021)
• Little Mr Picasso Slides (2023)


Teaching Evaluations
GET1029 LIFE, THE UNIVERSE, AND EVERYTHING
national university of singapore, fall 2020


Teaching Evaluations
UTS2100 INTELLIGENCE AND SINGAPORE SOCIETY
national university of singapore, fall 2017


Teaching Evaluations
8807 GENERAL PAPER
AY2023